FELLOW COUNTRYMEN
Time beckons us to arise, unite and STRIKE...
You would be aware of the pakistan army attempts of breaching peace in Kashmir...Latest one being the firing at the line of control (LoC).Our army jawans were right in replying them with counter firing in which 70 odd bastards from the other side were killed.This answer is good enough to serve as a deterrent for them in future.But it is not just the job of the army to retialiate,every youth of this nation should arise and strike back.In 1971 due to some politicians,all the efforts of our jawans were brought to nil when the land which was won back by them was returned!!! Shame on our politicians.Pakistanis have always been known to be treacherous.Inspite of the generosities of Indians,they did not return the Indian POW not to talk of our occupied Kashmir.This itself is a reason enough for India to strike back and teach them a lesson but alas! due to the Indian stand on non-voilence we kept quiet for 25 yrs.This shouldn't be taken as our weakness.Only the powerful can be the merciful!Now this is the time to throw this principle of non-violence in junkyard and smack the faces of the intruders.None other than the three colours of the tricolour shall prevail.
The Power Is Yours'...
JAI HIND!!!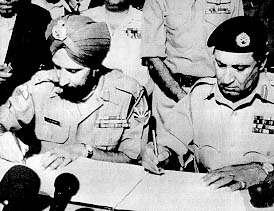 Gen Aslem Begh surrendering unconditionally to Gen. J. S. Arora In The Historic War Of 1971 in which the Indian Army Marched right upto Lahore.This time the target is karachi...
Let's Repeat The History